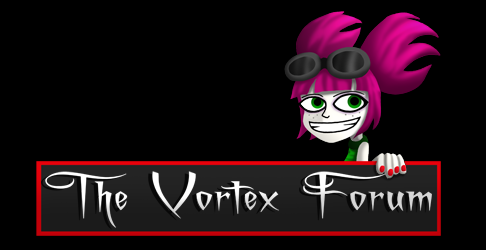 www.TheVortexMachines.com
Hi there. This is a message from Jimmy. Due to a low number of members and a rather infrequent rate of forum posts, I've decided to nix this forum. I figure it's no use carrying on with a forum that nobody's using much anyway.
This is a part of an attempt I'm making to simplify my online life a bit, and trim down peripheral things that I have online.
I'd like to thank everyone who has come here and contributed, I really appreciate you taking time out of your lives to come here and have a natter with me. It was a lot of fun.
I've very recently started a new thing called Maxwell Vex's Creation Station, where I'll be posting things to do with how I make my comics and art, who has inspired me creatively over the years, that sort of thing. You can check that out here, if that sounds like your bag:

Maxwell Vex's Creation Station

If you want to leave a comment on further AOTE pages, you're more than welcome to do so in the comments section of the Vortex site.
And there's my email, jimmymisanthrope [at] gmail [dot] com
I'll leave this message up here for a little while, a month or so I suppose, so hopefully people who have been contributing will have a chance to read it before I delete the forum in full.
Again, thank you very much for participating in this forum. It means a lot to me. I hope I haven't let anyone down.

~Jimmy.


| | | |
| --- | --- | --- |
| Theme: Zeta Original | | 11:24 PM May 24 |