@import "http://lib.zetabin.com/jQuery/facebox/facebox.css";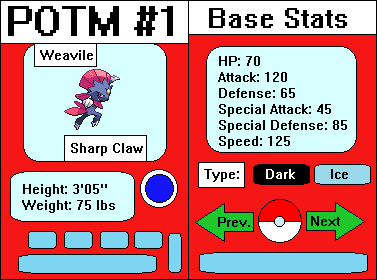 Sprites :
Foot Print :
Evolution Chain :
evolves into
by being leveled up at night while holding the razor claw.
Type(s) :
Pokedex Info:
Weavile, the Sharp Claw pokemon National Pokedex #461, Sinnoh Pokedex #145. Weavile is definitely a tough offensive asset, being able to take full advantage of it's STAB, something Sneasel was never able to do. It's typing (Dark/Ice) is also very effective, as Crk provides decent coverage, and has pusuit, while Ice provides overall great coverage to some of the biggest threats in today's metagame. His stats aren't quite legendary, but his attack is good and he is one of the fastest pokemon in the game.
Battle Movesets:
Physical Sweeper
Item: Choice Band/Expert Belt/Life Orb
Nature: Jolly
EVs: 4HP/252ATK/252SPE
~Pursuit
~Brick Break
~Ice Punch/Ice Shard
~Night Slash/Aerial Ace/Ice Shard
This is the moveset you'll probably want to use. Pursuit is a great move considering his typing, stats, and the healthy fear people already have of weavile, people will be running away; giving you lots of chances to hurt them as they switch out. Brick break deals with steel types, as well as Tyranitar effectively. Ice Punch and Night Slash are both great STAB moves while Ice shard always strikes first (Though Weavile will already be outspeeding it's opponents). Aerial Ace deals with Heracross and Breloom effectively.
Swords Dancer
Item: Expert Belt/Focus Sash/Lum Berry/Life Orb
Nature: Jolly
EVs: 4HP/252ATK/252SPE
~Night Slash
~Brick Break
~Swords Dance
~Ice Punch/Ice Shard
Aside from Ninjask, Weavile is the fastest swords dancer in the metagame, allowing him to be a great late game threat. Weakening his counters, or possibly even eliminating them. Ice shard beats Ninjask's incredibly high speed, and will stop many of Weavile's big threats; like Yanmega, Aerodactyl, and Scarfchomp, Ice Punch provides excellent STAB. Brick Break still deals with TTar, Lucario, Scizor, and Heatran notably. And I think Swords Dance is Self Explanatory.
Lead Killer
Item: Focus Sash
Nature: Nature: Hasty
EVs: 4HP/252ATK/252SPE
~Fake Out
~Taunt
~Counter
~Night Slash/Ice Punch/Ice Shard
The ever-popular Sashscide lead, completely centered upon Stealth rocking and preventing the foe from doing the same; is effectively countered and obliterated by this set. Fake out allows you to cancel out focus sashes, severally hurting Sashscide leads. Taunt and Counter deals with slower tanks more effectively. Ice Shard is probably where you want to go with this set, as it sets your going first in battle, which is a good option against leads like Ninjask.
Spinoff Games
Mystery Dungeon: Body Size: 1, Recruit Rate: 12%, IQ Group: F
Trivia
* Weavile's US name was revealed on the same day that Mime Jr.'s was May 28, 2006
* Weavile weighs the same as Dawn.
* Weavile is the first Generation IV Ice-type Pokémon to ever appear in the Nanime (In the possession of Kidd Summers)
* Weavile has the highest base Speed stat of any Ice-type Pokémon and is tied for the fastest Dark-Type Pokémon with Darkrai.
Until Next Week!
-Raiden
Copyright © Raiden, 2010.
| | | |
| --- | --- | --- |
| Theme: PokeFerno Original | | 11:35 PM May 23 |
©Anime & Pokémon Inferno 2009-2010
All Games, Anime, and Pokémon are © to their respective owners and founders.


Loading
Theme by Sith and Prototype of
Outline
New Post
No New Post
Pass Protected
Read Only
Redirect